Information About and For Exhibitors
To reserve tables, please see Reserving Tables below.
2017 List of Exhibitors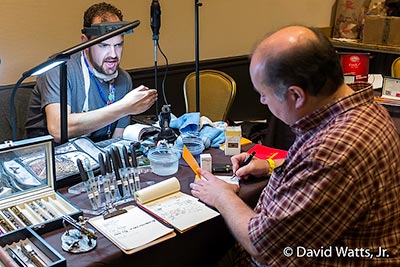 Louis Ahern
Wallace Andrews
Jim Baer
Andy Beliveau
Richard Binder
John Corwin
Paul Erano
Sid Falthzik
Paper For Fountain Pens
Federalist Frank
Pier Gustafson
Tim Holl
Jeffrey Krasner
Neil Landers
Josh Lax
Gary Lehrer
Menash Murad
Nikola Pang
Deb Peck
Mcm Pens
Lindsay Rand
Ian Schon
Bob Slate Stationers
Signatures Stationers
Jonathan Steinberg
Nathan Tardif
Reserving Tables
All tables are standard 72"×30" (6-foot) banquet tables.
There is a separate exhibitors' entrance to the ballroom; you will not have to cart your displays and goods through the hotel lobby, and you will not need to run interference at the visitors' entrance while you are setting up or packing.
Tables are extremely limited! To be fair to everyone, we will allocate tables as we receive paid reservations. To reserve your tables, please mail your check with a letter giving your name and address and the number of tables you want to reserve to this address:
Commonwealth Pen Show
c/o Monomoy Vintage Pen
PO Box 433
Harwichport MA 02646
Please make your check payable to Commonwealth Pen Show LLC.
---
Copyright © 2016 Commonwealth Pen Show LLC